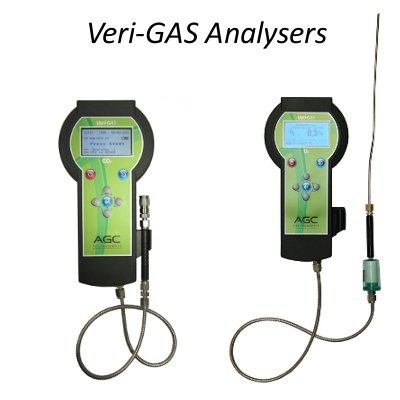 Veri-Gas O2 Gas Analyser
Veri-Gas CO2 Gas Analyser
The AGC Veri-GAS analysers are designed for use in several applications, particularly welding gas analysis. These robust handheld analysers are easy-to-use and utilise sophisticated measurement systems which allow fast and accurate readings.
The Veri-GAS O2 measures the Oxygen (O2) content in the area between two pieces of metal to be welded together which is typically purged with argon prior to welding. The specially designed sample probe dissipates any heat that may be in the area and is connected to an industry-specific particle filter and armoured tubing to make the Veri-GAS O2 a durable device in challenging environments. It can also be used to measure Oxygen from vehicle exhaust gases or for glove box analysis.
The Veri-GAS CO2 measures the Carbon Dioxide (CO2) content of a gas stream from a pressurised system or a gas cylinder with a regulator affixed. The compact sample probe contains an in-built particle filtration system and flow limiting devices in addition to the easy connection system to take a sample from a sampling point. It is primarily used for measuring the Carbon Dioxide (CO2) content from welding gas mixtures such as Carbon Dioxide and Argon or Carbon Dioxide and Nitrogen beverage gas mixtures.
Features
Lightweight & Portable
Armoured heat-shielded tubing
Easy Connection Fittings
Intuitive Interface
Measurement range of 0.1% – 100%
Highly Accurate
Measurement results achieved within seconds
Low Maintenance
Straightforward Calibration Procedures
Holster for the probe
Probe blockage alarm
7 hours of Battery Life / Mains power supply
Fast Recharge Feature
To discuss any applications you may have, please contact us for more information.

Download Brochure