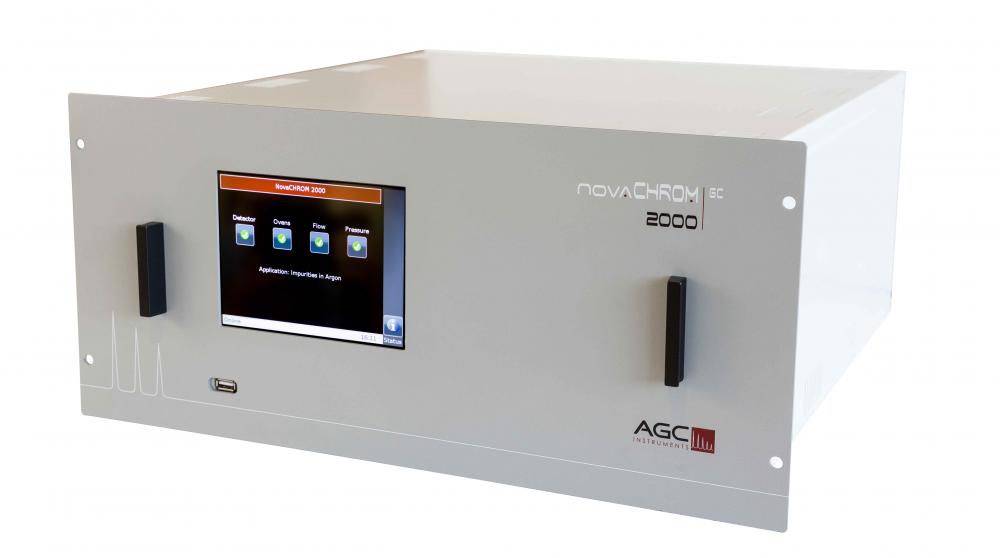 By means of our proven Argon Discharge Detector (ADD), the NovaCHROM 2000 GC utilises the latest advanced technologies to provide the precise results required with the ease of use and support features expected.
The AGC NovaCHROM 2000 GC has a large colour LCD touch screen display for fully automated use and shows all statuses, alarm conditions, diagnostics and direct reading of results. It is an intuitive and easy to use addition to allow customers effectively manage their processes. Minimal training is required as the interactive touch screen is operated by a comprehensive user interface for guided functionality. The Integrated Diagnostics and Configurable Alarms Systems pinpoint any areas which require attention to allow swift identification and resolution of any process issues. With these features, the NovaCHROM range of Gas Chromatographs can operate unattended for long periods of time for both batch-type analysis and continuous monitoring. This makes this GC Platform very versatile and robust to meet the exacting needs of the operation.
A quick start up time is combined with a fast detector response time of less than 0.5 seconds. In addition to the superior attributes such as the Electronic Pressure Control (EPC) System for the carrier gas, operation of the NovaCHROM 2000 GC is swift, precise and straightforward. Packed columns and independent temperature controlled column ovens are combined with 1/8" Stainless Steel VCR compression fittings and electropolished 1/16" stainless steel tubing throughout. Furthermore, the Vici Valco® high purity rotary valves are enclosed in a purge box to prevent air leakages to guarantee a contamination free environment. These developments come together in providing the NovaCHROM 2000 with excellent stability, sensitivity and the ability to reach very low ppb levels (<10ppb N2).
The optimised consumption of carrier and supply gases by the NovaCHROM provides an economical platform with a low cost of ownership and long life span. Servicing and maintenance is trouble-free with a drop-down front panel for easy access to the electronic components. Moreover, the unique column infrastructure, which can be regenerated in-situ, provides the user with seamless operations.
The NovaCHROM GC boasts increased connectivity via RS-232, RS-485 and Field BUS communications and data handling can be controlled by the AGC TrendVision PLUS Software in conjunction with any other ancillary components. This enables the operator to achieve guaranteed applications with ease and ensures that the NovaCHROM 2000 GC providing a top class service at all times.
Also Available in the NovaCHROM Range:
NovaCHROM 1000 with Discharge Ionisation Detector (DID)
NovaCHROM 2000 with Argon Discharge Detector (ADD)
NovaCHROM 3000 with Flame Ionisation Detector (FID)
NovaCHROM 4000 with Thermal Conductivity Detector (TCD)
NovaCHROM 5000 with Flame Photometric Detector (FPD)