The NovaAIR GC is a complete gas analysis system with a small footprint and modern rugged embedded computer control. The proven TrendVision software platform is included to run all aspects of the gas analysis on the operating system provided. This is complemented by the latest technologies employed including a large 10" Capacitive Colour Touch Screen to display all digital temperature, pressure and flow measurements.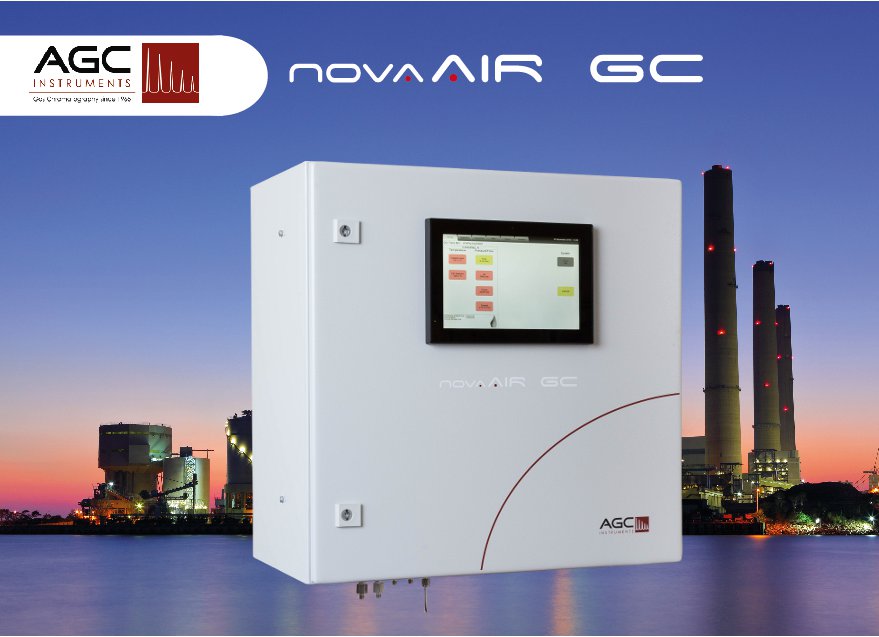 The industry-proven detectors available for the NovaAIR GC range are chosen from the wide selection available from AGC Instruments to suit each particular application which facilitates gas analysis from % to ppm to ppb. This GC system is both easy to use and service with a low cost of ownership. The NovaAIR is designed and built to encompass the customer's key requirements and is readily connectable to a sample conditioning system. Furthermore, there is seamless Integration onto a Distributed Control System (DCS) or Control Room using an array of communication modules. AGC Instruments also offers an ATEX version for Hazardous Zones 1 and 2.
The first model in the range to be launched is the NovaAIR 3000 GC which was developed for Methane / Non-Methane Hydrocarbon Analysis including ambient air monitoring at Industrial Installations. Using the Flame Ionisation Detector (FID), this System is primarily used for Hydrocarbons analysis with non-heated and heated versions available for a wide range of applications which extends to BTEX, VOC, Stack Gas Analysis and other Industrial Hygiene applications
AGC Instruments has over 50 years experience in providing customers with their "Total Gas Analysis Solutions". Working closely with all customers, AGC ensures that they obtain the analytical solution that meets their needs and a system that is easy to use and understand. As a result, all AGC distributors are extremely experienced and factory trained to the highest standards, offering you a complete after sales support service.
For more information on the NovaAIR range visit the product page here. To become a distributor for the innovative product ranges from AGC Instruments, please contact us directly.