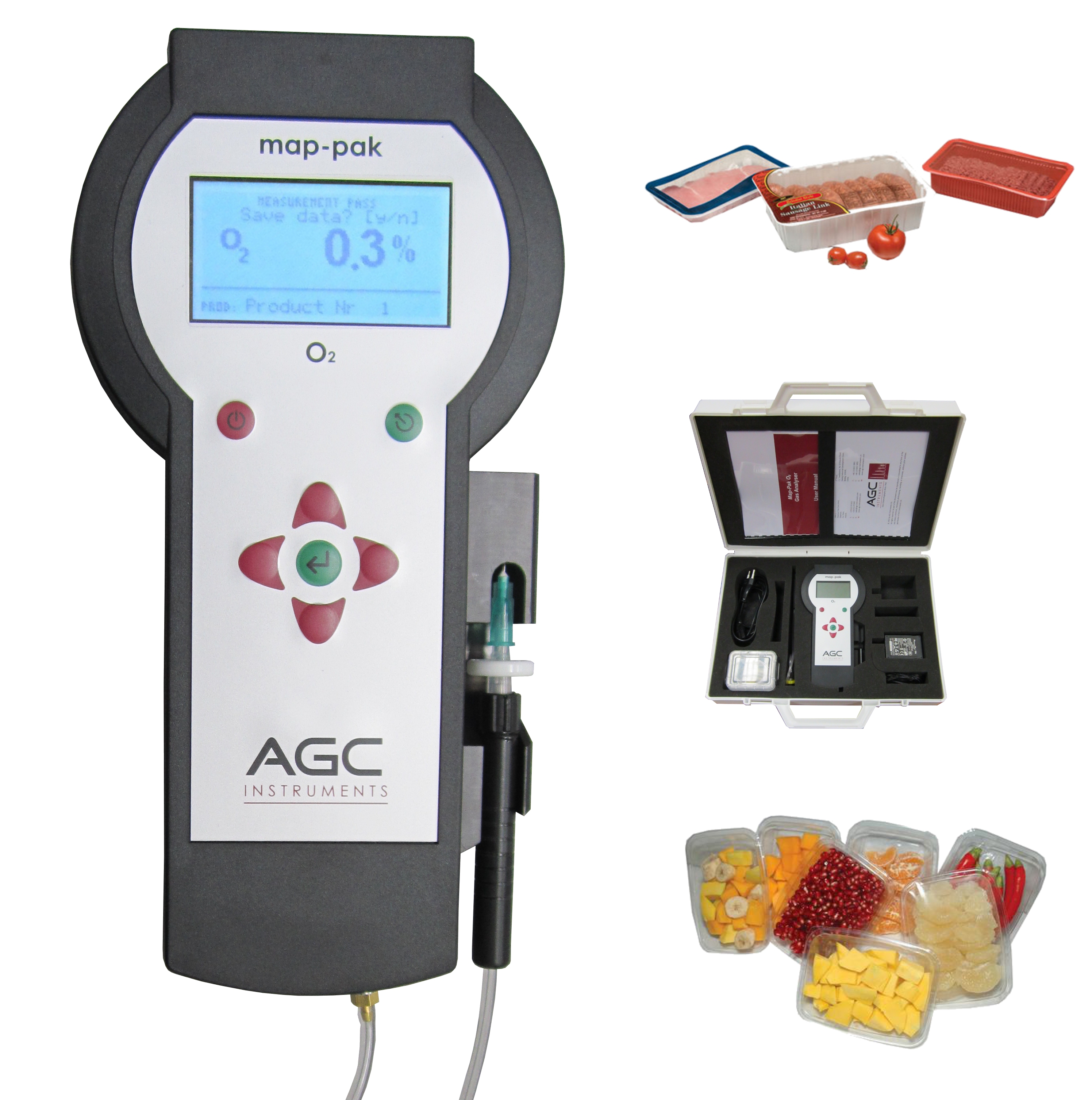 AGC Instruments has complimented the latest Map-Pak food gas analyser upgrades with a new ergonomic probe holder. A needle cover, which is incorporated into the probe holder, allows users to pick up and put down the sample probe safely and with ease. Strengthened and wipe-clean ABS Plastic is used for weight reduction and increased comfort for the operator ensuring numerous analyses are taken quickly. This is coupled with the fast sensors, thus saving companies both time and money.
The Map-Pak range is the fourth generation of gas analysers for the food packaging industry and AGC Instruments has over 49 years of experience in the gas analysis industry which guarantees a trustworthy solution for your operations. These lightweight and portable analysers are designed for the operator's comfort with an easy-to-use interface, and have a comprehensive set of features to provide fast and accurate O2 , CO2 and N2 readings. A minimal gas sample is required and three sample volume options are available to suit all packaging types. A long battery life also ensures continuous operations in busy production schedules.
Available in two models, the Map-Pak Combi and the Map-Pak O2 analysers both provide a key analytical solution to cover your food packaging requirements. The Map-Pak Combi, which measures Carbon Dioxide (CO2), Oxygen (O2) and Nitrogen (N2) [as a balance gas], is the most flexible solution to cater for a wide range of gas mixtures across multiple product lines.
All of the units are calibrated and set up to use straight out of the box. The Map-Pak range includes a variety of reporting options including saving results in the unit and/or downloading these results to a computer via our MP Downloader Software. Alternatively, the optional small Thermal Printer automatically prints out a receipt-size paper with the results when a sample is taken. This thermal printer is ink-free to save on costs and portable. Each of these reporting options allows the user to display their results in a way that best suits their HACCP system. Furthermore, the calibration certificates provided with each Map-Pak unit adheres to the Modified Atmosphere Packaging and HACCP requirements for audits.
The Map-Pak analyser was developed as a quality control device that can be used with minimal training. AGC Instruments also provides an unrivalled customer service to assist you with any queries you may have. For further information or to become a distributor please contact us directly.