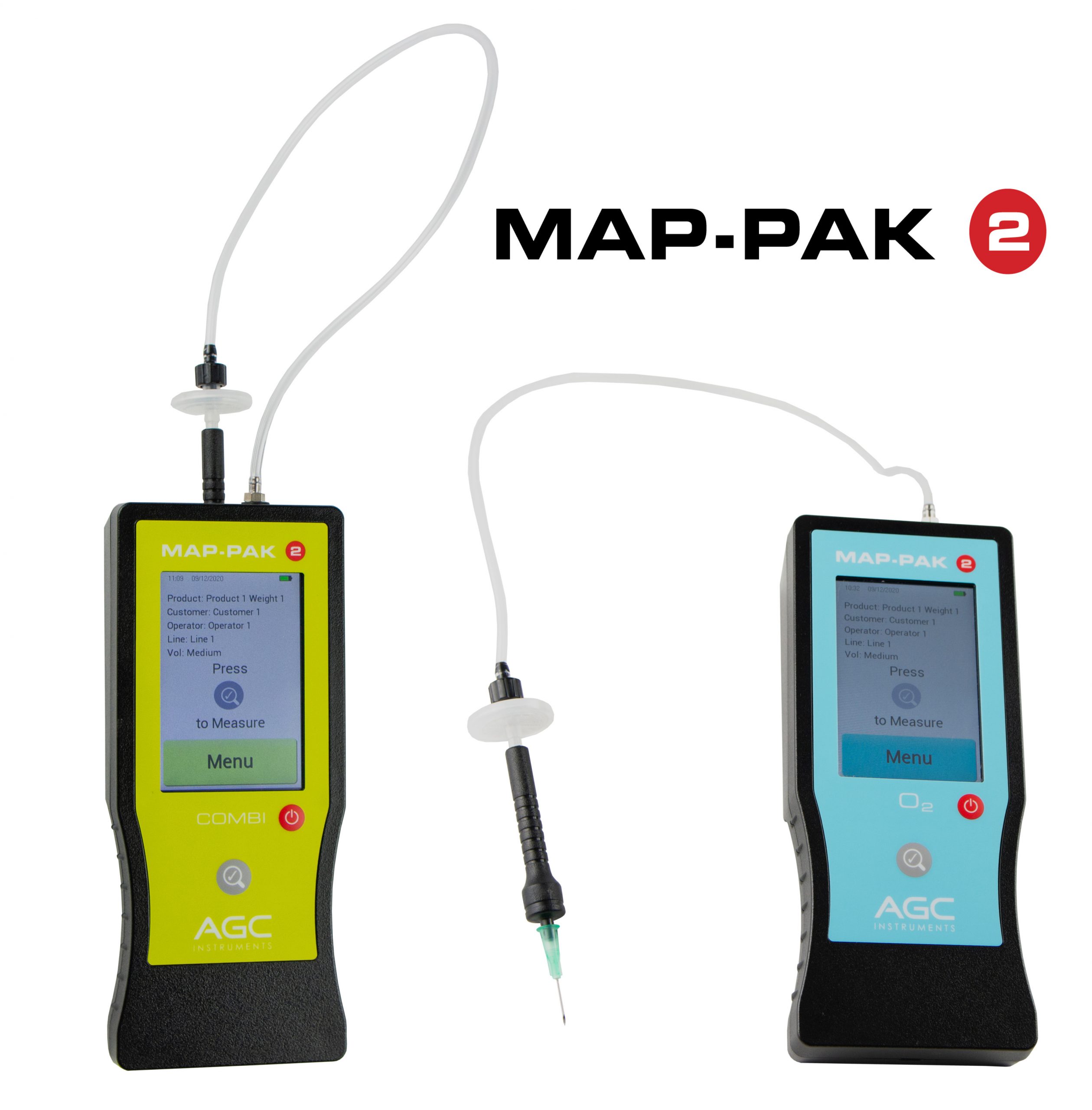 The Map-Pak 2 is the fifth generation of gas analysers from AGC Instruments for the food packaging industry. Designed to measure the gas content in the Modified Atmosphere Packaging (MAP) process, the Map-Pak 2 analysers were developed with quality and competitive pricing in mind. AGC Instruments has over 55 years of experience within the gas analysis industry hence quality and reliability is assured.
The Map-Pak 2 range is comprised of the two main models: the Map-Pak 2 O2 (to measure Oxygen only), and the Map-Pak 2 Combi (to measure Carbon Dioxide (CO2), Oxygen (O2) and Nitrogen (N2) as a balance gas). Using an electrochemical sensor and a non-dispersive infrared sensor (NDIR), sample measurements and results are achieved within seconds. These results are shown on the new Colour Touch Screen display along side a host of features for indepth reporting including an innovative 'Product Profile' feature which encompasses the following details:
Customer Name
Product Name
Weight
O2 and CO2 Alarms (High & Low)
Gas Volume Setting (to suit all packaging sizes)
CO2 Response Setting (for improved accuracy).
These lightweight portable devices are made from strengthened and wipe-clean materials and are easy to use with sample measurements and results achieved within 20 seconds. The operator can modify the various features of the analyser to best suit their requirements and a long battery life also ensures continuous operations in busy production schedules. The probe holder has now been integrated into the enclosure for ease of use as well as safely covering the needle when not in use. Furthermore, a new internal Filter and external Hydrophobic Filter have also been installed to better protect the sensor array thus saving on maintenance costs. This is coupled with a new modular probe design which enables the end user to replace any parts easily. In terms of results, no software is required to download the results to a PC which is done via the dual-use USB cable provided for charging and data transfer. The analyser itself can store thousands of results in its integrated high-capacity SD card and an optional Bluetooth Thermal Printer is also available for printing the results on labels and receipt-size paper. The end result for food producers is a swift, reliable verification and data processing tool for the quality control process in Modified Atmosphere Packaging.
Click here to view the Map-Pak 2 page.