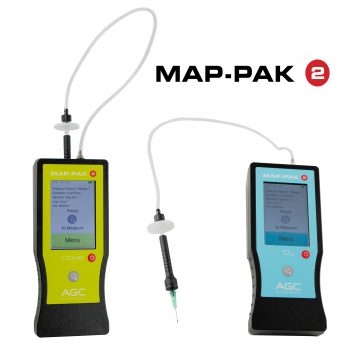 Map Pak 2 Combi Gas Analyser
Map Pak 2 O2 Gas Analyser
Following on from the success of the Map-Pak range of gas analysers for the food industry, AGC Instruments has now launched the Map-Pak 2 analyser range. These precision instruments are designed to provide quick, accurate and consistent measurements for validating the content of Modified Atmosphere Packaging (MAP) or Controlled Atmosphere Packaging (CAP). They are perfectly suited to a wide variety of gas flushed food packaging in the food processing industry and provide validation for quality control processes. The wide range of food packaging products from which gas samples can be taken include: meat, poultry, seafood, cheese, fruit, vegetables, snacks, convenience foods and many more. The Map-Pak 2 range is the fifth generation of MAP analysers from AGC Instruments and is available in two models: the Map-Pak 2 O2 (to measure Oxygen only) and the Map-Pak 2 Combi (to measure Carbon Dioxide (CO2), Oxygen (O2) and Nitrogen (N2) (the latter as a balance gas reading). Using sophisticated measurement systems, the Map-Pak 2 analyser provides in-depth reporting of data for today's stringent gas-flushed food packaging measures.
The Map-Pak 2 Gas Analysers were developed to satisfy three key provisions:
1) Speed – Fast and easy to use for all operators
Once the Map-Pak 2 needle is inserted in the packaging, the user must only press one button to obtain sample measurements within seconds.
2) Accuracy – Modern sensor technology
Using the latest and award-winning sensors, the Map-Pak 2 range employs both electrochemical and non-dispersive infrared sensors (NDIR) to provide fast and accurate readings.
3) Verification – In-depth results reporting for food safety audits
Over ten thousand results can be stored on the integrated SD card in the Map-Pak 2 analysers. These results can be easily downloaded to a computer using the USB cable provided and no software is required. Furthermore, an optional compact Bluetooth® printer is available for printing the results on labels and receipt-size paper. These two methods will enable swift verification for the user and show in-depth information regarding the product details along with a PASS/FAIL message if a gas level is exceeded or is below the required level. This can be pre-programmed by the user.
Features and benefits of the Map-Pak 2 include:
Portable and lightweight
Touch Screen Display
0-100% on both O2 and CO2 Sensors
Hydrophobic Filter and in-line Internal Filter to protect Sensors and Pump
Up to 8 hours operation time with an Auto-Shutdown function to save power
Multiple Languages Loaded on Device
Innovative 'Product Profile' structure to record all important information
Alarm feature with pass/fail indicator for both O2 and CO2 gases
Sample Volume Options (High, Medium, Low) to suit all packaging requirements
Built in database to store measurements
Direct connection to PC to download results to CSV/Excel file (no additional Software required)
Thermal Bluetooth® Printer available for printing results on the go.
For more information on our MAP Analysers please contact us directly.
To become a distributor for the Map-Pak 2 range, please contact us for further information.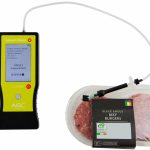 Download Map-Pak 2 Brochure

Download MAP Information