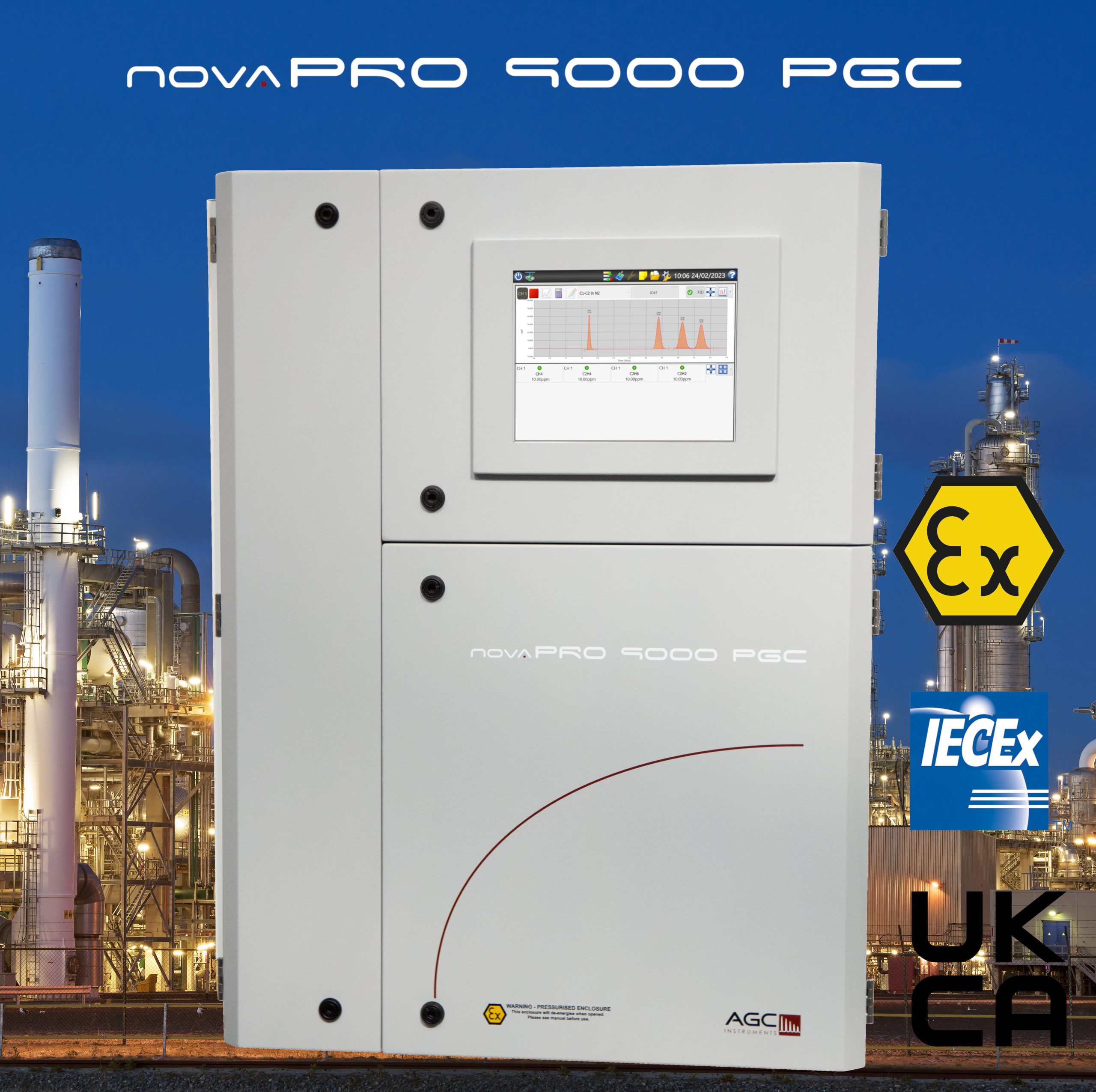 Introducing the newest On-Line Gas Chromatograph for the Process market from AGC Instruments.
The NovaPRO 9000 Process Gas Chromatograph (PGC) utilises the most up-to-date technology and systems available. This advanced PGC provides custom solutions for a wide range of industries and offers 24-hour monitoring and reporting as needed. Accurate readings are achieved using our range of proven detectors which have been perfected over 50 Years of experience.
This Ex approved PGC utilising a Purge method (Ex p) conformity, is housed in a mild steel enclosure that is purged for use in the harshest of environments and suitable for use in Zone 1 and Zone 2 classified areas.
Following the IECEx and ATEX standards, this pressurised enclosure is a versatile and customised solution where AGC brings over 50 years of Gas Chromatograph experience to this market sector. Using a 12" Full Colour Touch Screen with an integrated electronic controller and it is operated through a menu driven software interface. The versatility and efficiency displayed is second to none and all data is produced in real-time as Chromatograms, Digital Panel Meter or Trend-Line.
The system that runs and interfaces with the NovaPRO 9000 is a highly intelligent platform that has been carefully designed through interaction with our customers. Based on the professional embedded operating system and run on a rugged industrial embedded computer solution, the TrendVision PRO chromatography software controls all aspects of the analytical and reporting requirements.
With the NovaPRO 9000 Process GC, a vast range of analytical possibilities are found using the extensive experience of the AGC Instruments team of engineers. In-depth support and top class after sales care are paramount for all AGC product lines and are guaranteed with every NovaPRO 9000 PGC.
Up to two Detectors can be configured into a NovaPRO 9000 PGC system. The choice of detectors is: TCD, FID, FPD or DID. Other detectors will be added in due course.
The range of Applications are limitless and most of our PGC Solutions will be found in markets such as Hydrogen, Hy/CO, Iron & Steel, Petrochemicals, Natural Gas, Synthetic Gas, Coal Gas, Refinery…etc.
Utilising the many years of GC experience that AGC Instruments has become familiar with, we have adopted our many unique offerings and incorporated them into the NovaPRO 9000 PGC.
All fittings on our NovaPRO 9000 PGC are 1/8" Swagelok fittings which mean all our pipework (1/8" or 1/16") have excellent seal rates and expect zero leaks.
Coupled with our TrendVision PRO Software, a perfect solution will deliver the results and standards that you as a customer would expect.
For more information on the NovaPRO 9000 PGC please contact us directly.

Download Brochure