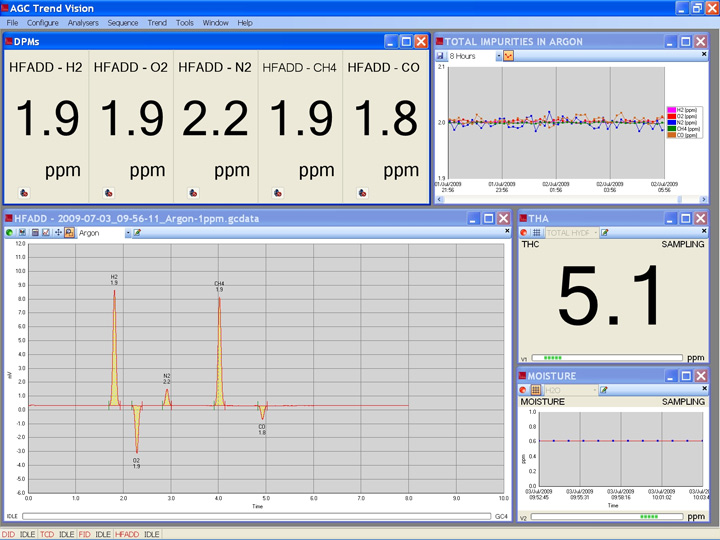 The TrendVision Chromatography Software is a complete Chromatography Integration package that provides the Gas Chromatograph Operator with all the tools needed to interpret the Data and Results from the Chromatograph.
It integrates all the instrument control, data handling, display, reporting and export functions needed in the usual industrial and laboratory environment into one package. The extended capabilities enable all Methods to be stored with valve timings so that the GC can operate in an automatic mode. Up to four GC channels are available and allow data from up to eight continuous Gas Analysers to be displayed within the Software. This means that third party equipment such as Moisture, O2 and CO2 analyser results can be displayed beside the data from the GC. This, in turn, provides the Operator with meaningful information that can be transmitted back to the Control Room or DCS if needed.
TrendVision provides a unified chromatography method whereby all settings are contained in a single method, including event tables, calibration tables and integration settings. In addition, this software enables our GC systems to run in a fully unattended mode. It can also take control of the AGC Instruments GC systems and automatically perform the required analysis using the pre-programmed methods. This is coupled with the ability to send results back to a DCS or control room using fieldbus protocols or traditional 4-20 mA signalling. If On-Line operation is not required, then the software runs equally well in its Stand-Alone mode with the same functionality and ease of use.
This complete software package is available in two versions namely, TrendVision CLASSIC & TrendVision PLUS.
TrendVision PLUS is the most recent release of the well-recognised Chromatography Data Capture Software from AGC Instruments. Rugged industrial level modular and scalable hardware is used with an Embedded Windows Operating System which is easy to use and set up. Once your system is installed, usage in the daily environment is very easy with minimal training required. It encompasses all the important functions required in this demanding gas analysis environment, enabling many standard features to be easily applied with the end products of excellent chromatography results and straightforward reporting.
For more information on our TrendVision Chromatography Software please contact us directly.

Download Brochure