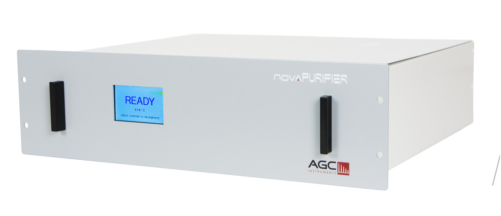 For best Gas Chromatography results, AGC Instruments recommends the use of the AGC Carrier Gas Purifier.
Our new range of NovaPURIFIER Carrier Gas Purifiers allow the GC user to purify their carrier gas (either Helium or Argon) to a high quality ensuring top class results from your GC each time.
We always recommend that a Carrier Gas Purifier is used with any GC using the following detectors: DID or ADD.
A minimum quality of N6.0 (99.9999%) is required for the DID or ADD to reach optimum performance. Higher quality carrier gas will ensure better sensitivity and longevity of the detector.
Lower carrier gas costs are obtained using the AGC Carrier Gas Purifier.
Features:
Easy-to use design
Digital Touch Screen Display
Low Voltage
Links Seamlessly with all Gas Chromatographs
Purification to Grade N6.5 or better
Long Term Use
The AGC Carrier Gas Purifier is available in two models to suit your application:
19" Rack Version
Part Number: PUR-804-He or PUR-804-Ar
Bench Mount Version
Part Number: PUR-802-He or PUR-802-Ar
For more information on our NovaPURIFIER Carrier Gas Purifiers, please contact us directly.

Download Brochure