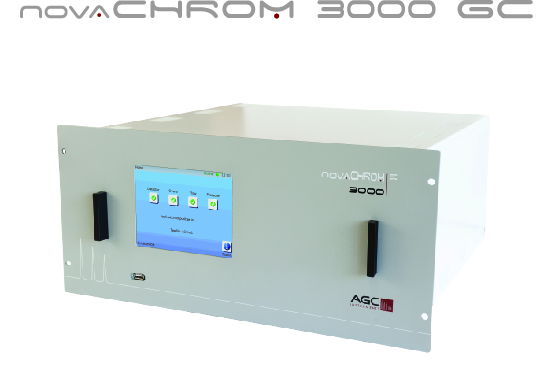 Introducing the NovaCHROM 3000 GC System which has been specifically designed for the quantification and identification of Hydrocarbon based components in a sample stream.
The NovaCHROM 3000 GC contains the latest GC technology based around the industry proven Flame Ionisation Detector (FID). This rugged detector design, of which AGC Instruments has extensive experience, is ideal for both cost effective and reliable gas analysis. Utilising the latest advanced technologies, this GC provides customers with the precise results they require where the measurement and quantification of any Hydrocarbons is required.
The FID will allow Hydrocarbon measurements from ppm to ppb levels with ease and with minimal training required. Typical impurities range from C1, C2, C3, C4, C5, C6 and higher boiling points including BTEX depending on the application and background gas.
The NovaCHROM family is an on-line GC solution using an interactive 6.5" colour touch screen display and avails of our Electronic Flow & Pressure Management System. All parameters and readings are easily viewed which ensures a straightforward functionality and accessibility with minimum training required. The GC is easy to install & set-up. Depending on the design configuration, the 19"/5U configuration allows it to be retro-fitted into a standard Industrial Rack Cabinet.
We offer many unique features including the AGC designed column ovens where each column is housed in its own independent temperature-controlled oven. This design, which is unique to AGC, means that temperature control and stability of the column is first in its class.
All fittings on our NovaCHROM 3000 GC are 1/8" Swagelok fittings which mean all our pipework (1/8" or 1/16") have excellent seal rates and expect zero leaks.
Coupled with our TrendVision PLUS Software, a perfect solution will deliver the results and standards that you as a customer would expect.
For more information NovaCHROM 3000 GC please contact us directly.

Download Brochure