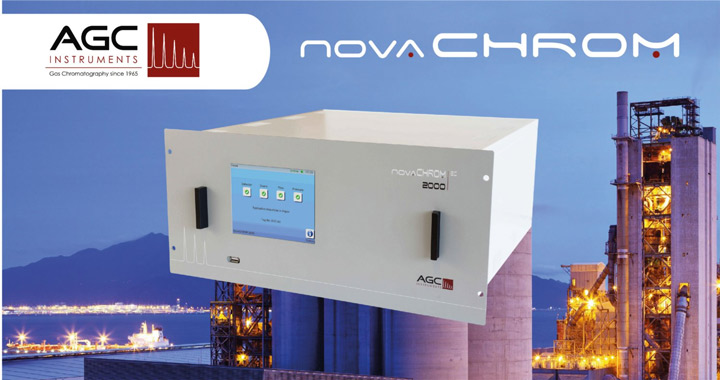 AGC Instruments introduces the new NovaCHROM range of Gas Chromatographs. The NovaCHROM GC is a culmination of years of experience in high sensitivity Gas Chromatography specific for the Analysis of impurities in a wide range of gas applications. This GC uses industry driven and proven methods of analysis for the quality control of gases using different detector technologies adapted to the required applications. The large colour interactive touch screen provides an easy-to-use user interface for guided functionality of the many features which enable the precise monitoring of applications. This ensures that the NovaCHROM GC provides a top class service to you at all times.
Each NovaCHROM GC is equipped with specific chromatography components depending on the application. Moreover, the packed columns with their multiple column ovens and individual temperature controllers also maintain exceptional stability, sensitivity, accuracy and repeatability.
With an optimised consumption of carrier and supply gases, the NovaCHROM also provides an economical platform with a low cost of ownership and long life span.
The Integrated Diagnostics and Configurable Alarms Systems pinpoint any areas which require attention to allow swift identification and resolution of any process issues. With these features, the NovaCHROM can operate unattended for long periods of time. This makes this GC Platform very versatile and robust to meet the exacting needs of the operation.
The detectors available in the AGC NovaCHROM GC range are:
NovaCHROM 1000 with Discharge Ionisation Detector (DID)
NovaCHROM 2000 with Argon Discharge Detector (ADD)
NovaCHROM 3000 with Flame Ionisation Detector (FID)
NovaCHROM 4000 with Thermal Conductivity Detector (TCD)
NovaCHROM 5000 with Flame Photometric Detector (FPD)
To discuss your application and which NovaCHROM GC may suit your requirements, please contact us directly for further information.

Download Brochure

Broschüre herunterladen

Sample Applications